Description
Transform your booklets into a dynamic hub for your brain.
Protect Your Booklets
Each of our products can be used powerfully on their own, but when bound together in our Cover along with anything else you need, the booklets are transformed into a personalized system that can stand up to the demands of constant use.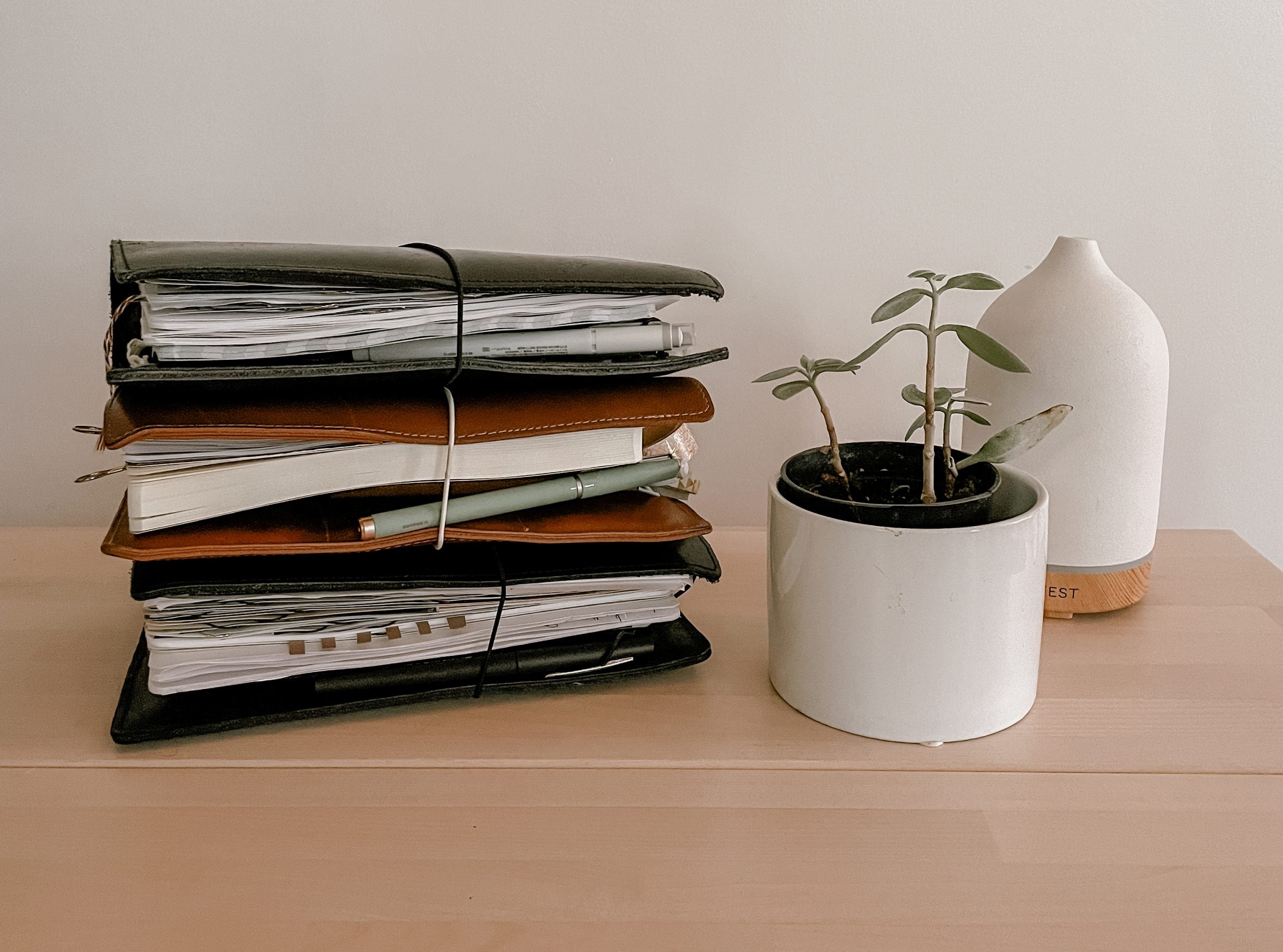 Declutter Your Mind
Each of the various roles we manage in our modern lifestyles tends to come with a lot of paper. After processing your stack and harvesting the details into the month calendar in your Annual or the week grid of your Classic, you might still have a few lingering items that need to be temporarily stored. Whether it's a bill to pay, or a membership to renew, the Cover is a centralized place to collect all of those random administrative tasks that don't have to stay scattered along your coffee bar.
Keep What's Critical at Your Fingertips
When you finally have the space to sit down to take care of business, you should be spending your time doing your tasks, not hunting for the information you need. When bound in our Cover and adopted as the centralized hub for your brain, the Evergreen Planner helps you to do just that. It also acts as a mobile office, empowering you to take your productivity on the go.

Inspire Yourself to Lean Into the Life You Envision
With four spine elastics, the Cover not only holds your current Annual and Classic planner booklets, but it has room for anything else that compels you. With the Cover's standard size, it's easy to slip in a blank bullet grid journal, your current paperback novel, or a sketchbook. Your planner can become your life vision board wrapped in leather—the place where you highlight the best things and the strongest motivations, so that every time you open it, you are compelled to keep living intentionally.
What to Expect
Every Cover we sell is locally handcrafted in a traveler's journal style. They're delivered to your door pre-threaded with elastic spine bands that are simple to readjust so that the tension is always just right. The closure elastic holds everything together tightly enough to feel secure, but flexibly enough to allow you to open it with one hand. This is one product that quietly grows lovelier with age.
*As top-grain leather is a natural product, each Cover has its own natural characteristics. Color variations, scars, or other natural markings are normal and help make each piece truly one-of-a-kind.
Cover Specs:
6 versatile pockets
2 loops for pens & washi tape
4 elastic spine bands for booklets
one closure elastic
genuine leather with a buttery smooth texture*
reinforced binding
tight stitching
rounded corners
gorgeous stamp embossing
9.5″ x 14.5″ when open flat
Limited Run
Our limited run Covers have the same level of quality, craftsmanship and durability as our black Cover, but are color ways we can't guarantee ever having again. Every few months we hand pick leather hides in colors we think our tribe will enjoy, and have small batches (normally 6-12 Covers per hide) made. If you see a color way you love, grab it while it's available!